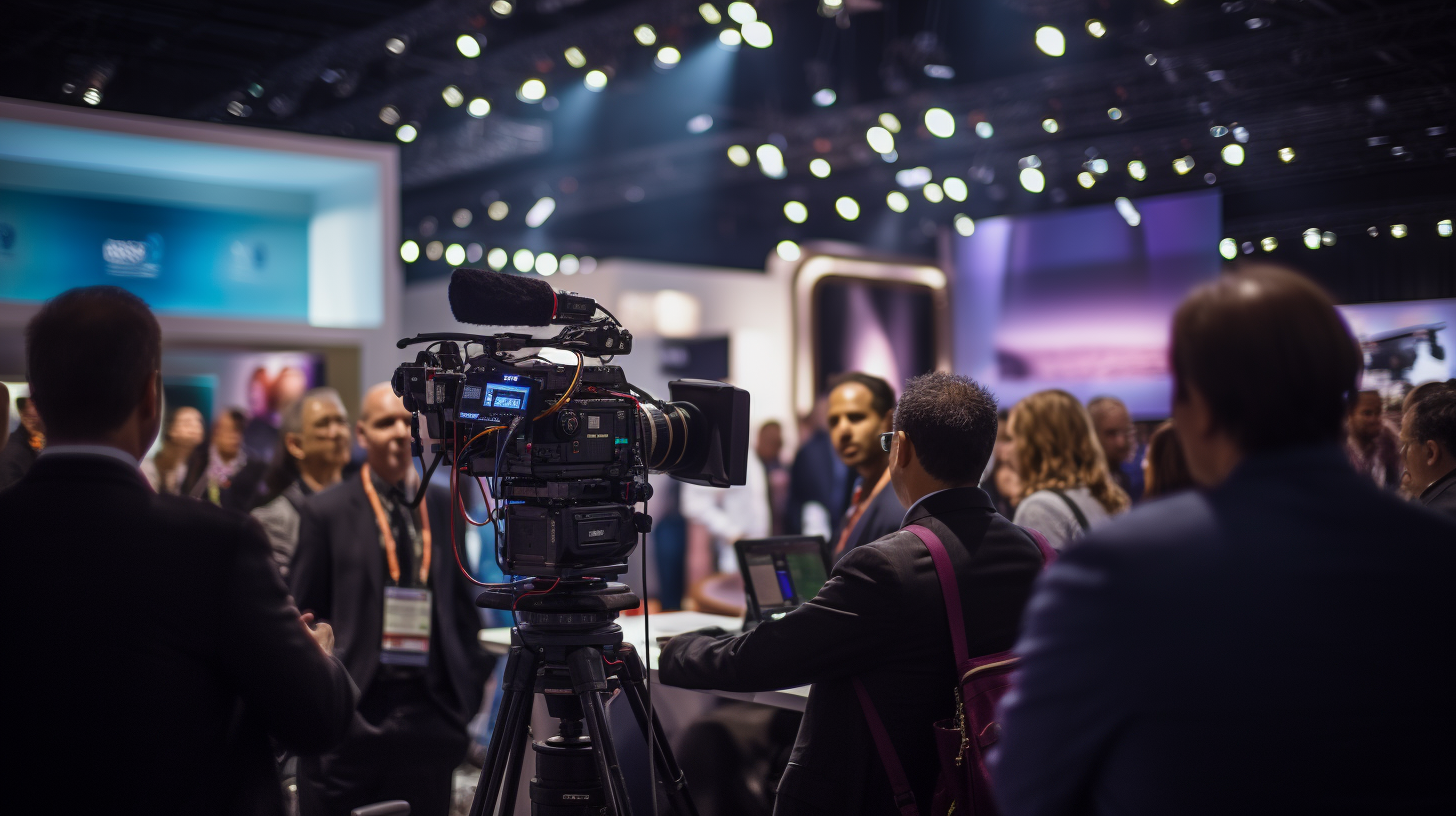 BlueStar's VARTECH is right around the corner, and with it, comes one of the best opportunities to connect with your colleagues, customers, and prospects.
It can also be overwhelming if you aren't prepared.
Between travel, networking, presentations, and panel discussions, you may have trouble finding time for a breath.
Since 46% of attendees will only go to one show this year, according to a 2015 report by Freeman Exhibit Surveys - we realize how important it is for you to make the most of your time. This is especially true given this may be your first conference in over two years (after the pandemic shut things down).
We're here to help you navigate the variety of offerings VARTECH has in store, whether you're a first-timer or a seasoned pro.
Here are our end-to-end suggestions for optimizing your trade show experience as an attendee:
View pro tips for tradeshow exhibitors >


Part 1: The "Must Haves" of Packing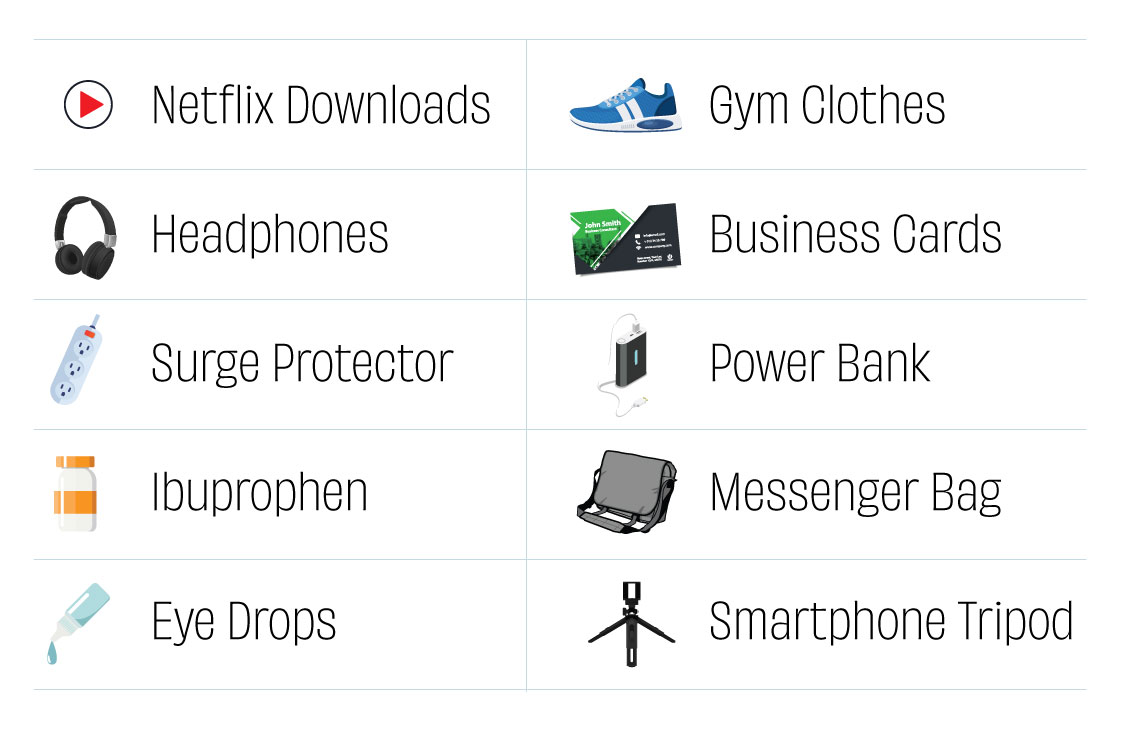 Expanding on the non-obvious:


Netflix Downloads - Sitting in the terminal, pre-flight, cursing the slow airport WiFi as you try to download a 2GB episode? Been there. Download Netflix (or your favorite streaming service) shows to your device the night before and look like you've done this before.


Headphones - Air pods are great, except on planes. Get an inexpensive pair of Bluetooth noise-canceling headphones and thank us later.


Surge Protector - This is a true pro tip—packing a surge protector for your hotel room is fantastic—plugging in your phone/laptop/watch/power bank all into one spot instead of spread all over the room? Highly advisable.


Eye Drops - We don't know if it's late nights, jet lag, lack of hydration, or something else, but why do we always wake up in hotels with red eyes? Not a good look.


Gym Clothes - Light exercise is an excellent way to shake off a long flight, combat less-than-ideal eating, and jumpstart your brain for a long day.


Power Bank - Very necessary for being on the run all day. People love Anker.


Smartphone Tripod - For those of you who will take our (very sound) advice about content creation, a smartphone tripod that easily stows in your messenger back is a good idea.
Will you

check

a bag?

Checking a bag means you'll have room for an extra pair of shoes (or two) and room to bring items back home that you might pick up. Living the carry-on only life means you're moving through the airport more quickly, but it also means you'll need to be an ultra-sharp packer.
James Korte's Take: Check the bag. Make sure absolute essentials are on your person and inside your carry-on bags.

John's Take: For me, it all depends on the length of stay and your "pro-traveler" status. I've gone on long weekend pleasure trips where carry-ons are easy to do, but that's with multiple people who can coordinate. Unless your trip is one or two days and you know you'll have minimal clothing changes, a checked bag is the safest bet.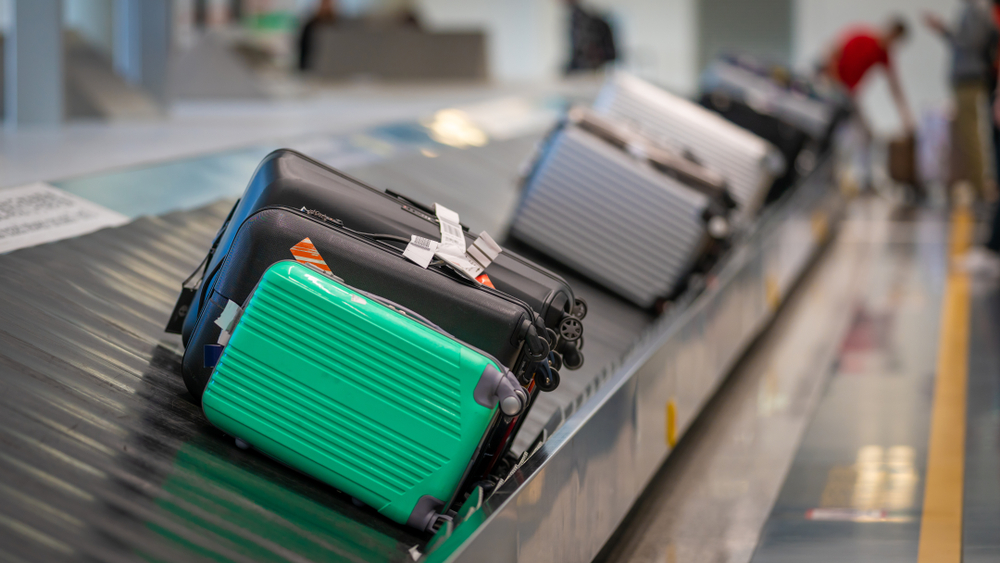 Wardrobe - What impression do you hope to give?
What should you wear to the show? This is a discretionary but important thing to consider—not everyone is going for the buttoned-up look, and this also depends on the industry you work in. The way you choose to present yourself should be considered.



John:

Check out some

photos from previous events

if you can. If you prefer to blend in, emulate what you see. Some people put too much emphasis on clothes, assuming that a sharp suit makes one good at or "serious" about business (no correlation, to me), but you can rarely go wrong with business casual. Ultimately, wear what you're most comfortable in, from an actual "this feels good on me" perspective to "I'm comfortable being seen in this."

James:

If your goal is to be memorable, your style choices can make a difference. This could be dressing ultra-sharp (or super casual), having some kind of accessory (hat, lapel pin), a pop of color in your shoes/bag/tie, or something else.



Which situations will you find yourself in, and what might you need in those situations?
Airport (comfortable clothes, easy-to-remove shoes/belts, phone charger)
Walking the trade show floor (comfortable shoes, breathable clothes)
Evening social events (more casual clothing)
Presenting in Educational Sessions (formal or branded clothing)
Golfing
Swimming / Beach time
Part 2: Content Creation
Trust me, your marketing team and social media followers will appreciate this. When VARTECH kicked off last year, a simple post on LinkedIn with images of attendees checking in, our staff setting up, and the show kicking off generated some of the highest engagement we've ever had on the platform. Photos, especially videos, are incredibly eye-catching, and you'll be in the perfect position to generate some easy, dynamic content.
Content ideas:
Photos and videos of new products and demonstrations
Key quotes from educational sessions
1:1 Podcast interviews
Event recap blog posts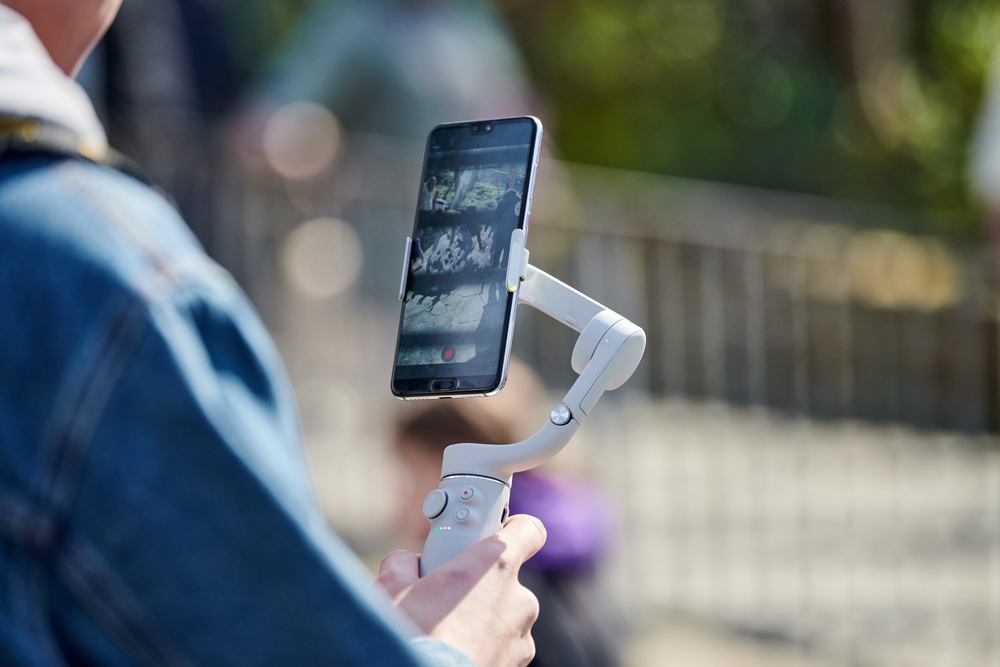 Ask permission before photographing or recording anything (turn that flash off!), but don't miss out on the opportunity to show your network where you are, what you're seeing, and why you're excited. Find a product one of your customers would love? Take a pic and tag them in the post. Hear a nugget of wisdom from a presenter? Snap a pic of them on stage and quote them—don't forget to use the event hashtag.
Write a recap of what you saw, thought, or learned at the end of each day or immediately upon your return. Post it yourself or share it with your social team to touch up and turn it into a blog. Turn specific moments or sessions into an article or video about your expertise and knowledge. Include soundbites you captured on-site when you can.
General tips:
Use the official event hashtag
Engage with other attendees and exhibitors online
Meet online contacts in person
Go above and beyond to do something unique
Keep your eyes peeled for social contests and giveaways



Part 3: The Tradeshow Floor
Most tradeshows only last 2-3 days, making every minute valuable time not to be wasted, especially if you're traveling solo. If you have a colleague or two with you, divide and conquer your efforts.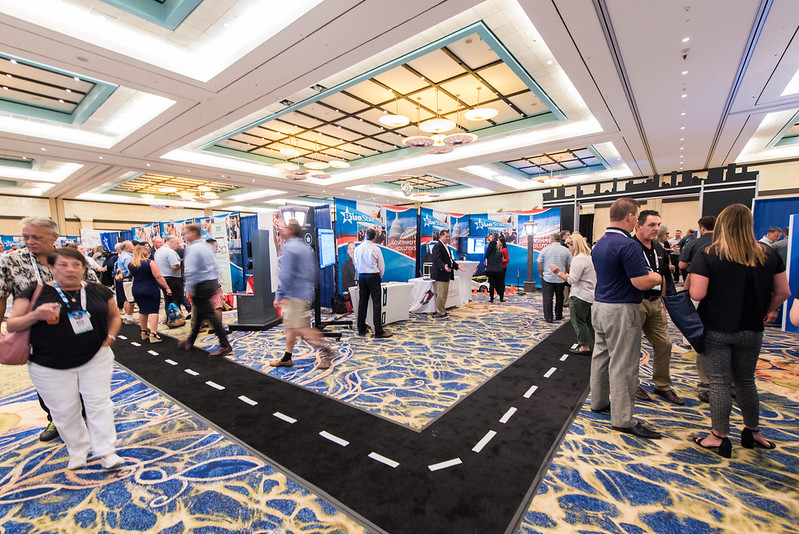 If the tradeshow floor is your primary focus, ensure you're equipped with a map to find specific booths and stick to your top needs/goals/exhibitors to start, especially on day one. It's easy to get distracted by so many booths, people, and "stuff," but some exhibitors and essential people may only be on hand for the first day and put forth their best efforts and demos.
Tips on Successfully Navigating a Tradeshow Floor:
Start at the back
75% of people will begin their journey with the booth at the front of the hall. To avoid traffic jams, start your journey at the end. (Thanks to Brianna Moriarty of Epson for this tip!)


Wear comfy shoes and hydrate
Your body will thank you.


Discover something new
We've made our point about pre-scheduling and meetings, but give yourself some time to discover new companies with offerings that might be worth looking into. Once the "must do" is accomplished, walk the floor with an open mind.
"[A]t events, a product or service you never even considered – or knew existed – can catch your eye when you're cutting through an aisle on the show floor. Or a person [you] haven't crossed paths with in years can bump into you coming around the corner, and you learn news or a key insight from them. […] You never know when serendipity will guide you towards a great opportunity."

Jim Roddy, President, Retail Solution Providers Association
Be cognizant of the exhibitor's time, too. They will be happy to talk to you, but they also want to speak to as many people as possible. The show floor is not the time to explain every detail of your latest opportunity or favorite customer's needs. Let them know you have something in mind and would appreciate a longer discussion when it's convenient.
Part 4: Educational Sessions
Most conferences and tradeshows offer opportunities to hear from experts on various topics within your industry. Align your attendance with your goals and needs. Are you looking for new opportunities with existing customers? Find a session on industry trends or deep-dive product demos. Ready to grow your business? Look for new revenue discussions. Sales tips? Marketing help? End-user analysis?
Tips on Selecting Great Sessions:
Areas of interest
See something that jumps off the page? Don't second guess yourself. If the presenters have been thoughtful enough to create a compelling title or description of their session, chances are good they've taken similar care to the content of the session itself.


Format preference
Most educational sessions follow one of the following formats: traditional slide-driven talks, panel discussions, workshops, case study presentations, and Q&As/AMAs. If you've found in the past that you've gotten greater value out of one format versus the other, use this as the tie-breaker.
John:

As a frequent presenter and occasional session attendee, walk away from "death by Powerpoint" presentations. Demand better than those that just want to read slides to you verbatim. Find sessions that encourage your participation, have a diverse panel, or offer unique presentations that truly elevate the conversation.


James:

I prefer a presentation with visual support (think stats, videos, diagrams, lists) to panel-style sessions. Panels can be great, but I find that I struggle to key in on major takeaways when the format is 100% verbal.
Presenter
Is there a lot of buzz around a particular speaker? Someone that's been lighting the speaking circuit up or an innovator from a bleeding edge organization that you'd love to hear from? Perhaps even a competitor? This is your chance to jump into their brain.


Knowledge gaps
Don't be so quick to sign up for the session that seems perfectly aligned with your business—if you could lead the session yourself, consider attending a session that will tackle a topic in an area to learn and grow.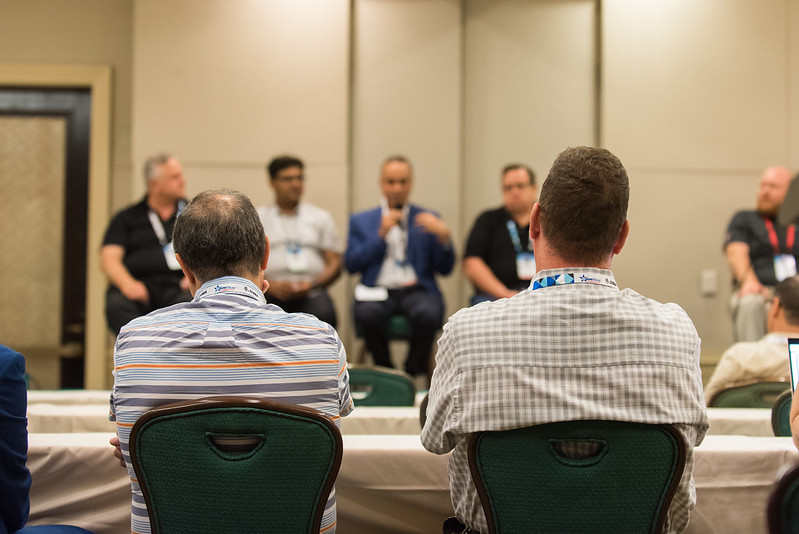 Again, if you are traveling with colleagues, split up sessions that are held at the same time. Keep good notes, record the session if you can, or find out if/where a recording will be available. If there is an opportunity to interact or ask questions, do it! Most sessions are led by experts or professional speakers that you may not have access to any other time…take advantage of it!
Part 5: Evening Events & Networking
Many tradeshows are in fun places and include indulgent after-hours events and parties. Prospective business partners may offer to buy drinks, take you to off-site clubs, or invite you to VIP areas.

After a busy day, you'll deserve some fun and should not feel ashamed to enjoy it, but remember that you are ultimately still at a business function representing your company. You never know who may be watching, listening, or making judgments. We all have stories of people who drank too much, said the wrong thing, or maybe even found themselves unemployed due to inappropriate behavior. Don't be that person.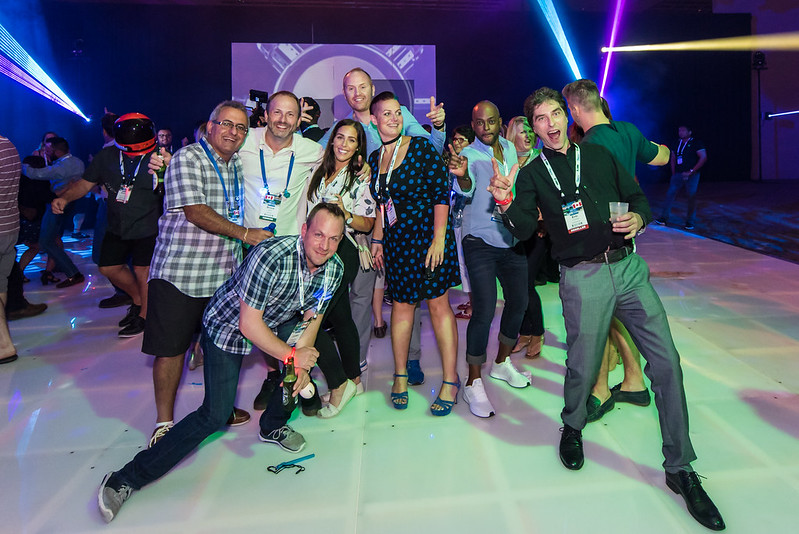 Pace yourself when you're out and about. Remember to eat and drink water. Stay with a responsible colleague who can watch out for you and vice versa. Be aware of your surroundings, don't go anywhere alone with someone you don't know personally, and call it a night at an appropriate time. Don't be afraid to say no, duck out early, or skip entirely if you aren't comfortable or don't trust yourself.
James:

Important bonding moments happen after business hours, so hang out a bit. But get enough sleep, and don't overdo it on the drinks. Stay hydrated.


John:

I've got a few years on James, and I'm a bit of an introvert. I'm rarely an attendee anymore—but late nights after a busy day at a show are exhausting to me. I'll have a drink or two, enjoy some good food, and head back to my room to unwind and get a good night's sleep. That said, James is right; some great moments can happen in the "off-hours," but I also like being clear-headed and unencumbered the next day. Again, do what's right for you.
Pro-Tips for Exhibitors
Being on the other side of the table at trade shows comes with its own set of challenges and possibilities. After all, you're probably paying a lot of money to even be there, making the path to ROI that much greater.
Most of the tips above apply to exhibitors as well, but here are a few extra that are unique to you.
Packing/setting up your booth. Lots of great tips from our industry friends here. Label boxes by where they should be set up and grouped appropriately, especially if someone else will be setting them up. Ship your materials as early as you can. Get onto the show floor and set up the booth as early as you can. Last-minute electrical issues, broken items, or delayed products can really ruin your experience if it's discovered too late.


Staffing - Try to have at least two people staffing your booth, to handle breaks and busier moments, but also to keep you company and get your back if you miss a talking point or need help with a demo.


Capture leads - Whether you are offered lead scanners as part of the exhibitor package or have to do it on your own, have a plan for efficiently capturing information from potential leads. Again, don't forget that powerful smartphone in your pocket to take pics, record notes, and maybe even connect directly to your CRM.


Skip the literature - It's a digital world and no one wants to carry around catalogs or even flyers of your products. Use postcards or a cool giveaway with a QR code to your digital catalog or other resources.


Streamline the products - For that matter, you don't need to take everything you sell...just the new items, hottest commodities everyone loves to see/touch, or something a customer you made plans to meet wants to see. Less is more!


Be involved - The actual tradeshow is your priority, sure, but don't ignore the rest of the conference. Attend the same education sessions as your core customers. Get on the panel for one if you can to show off your expertise. Ask people who stop by your booth what they thought of a talk, session, or last night's entertainment.


Follow up! - Whether you had a full demo at the show or just exchanged business cards, follow up as soon as you can. Send a thank you note, a personal email (bonus points if you remember a specific detail of your conversation), and include some sort of CTA to keep the connection going.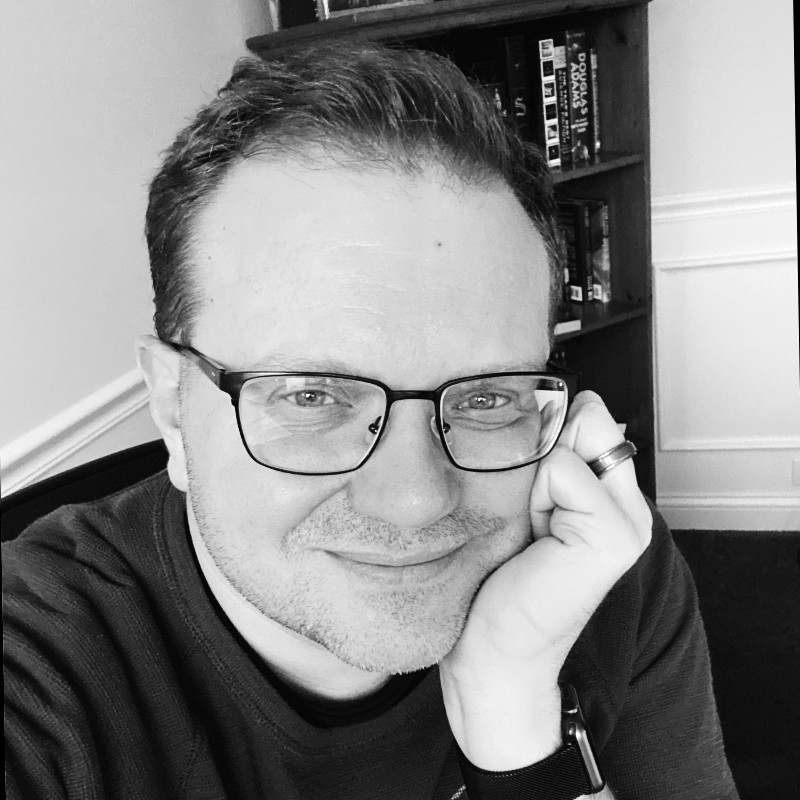 John Martin is BlueStar's Sr. Content Marketing Manager and host of The TEConnect Podcast. His career path includes stints in retail, textbook publishing, and food service equipment, but his true passion has always been writing. In his spare time, John is an avid consumer of podcasts, watches way too much TV, reads science fiction and comic books, and is consistently heartbroken by the Cincinnati Reds.
Subscribe to Get Our Latest Content