Introduction
IN-HOUSE CANNABIS PRODUCT LABELING
Regulation is steep in the growth and production of cannabis but also extends to cultivators, processors and dispensers of medicinal and recreational marijuana, especially when it comes to packaging and labeling product.In the US, package and label regulations vary significantly between states, but newly established state regulatory agencies seem to be borrowing from and building on foundations established by early adopter states, taking lead from their experience.
This documents aims to clarify and offer best practices for cultivators, processors, and retailers looking to achieve self-sufficiency in creating on-demand cannabis product labels:
What information needs to be included on labels?
Examples of compliant cannabis product labels
Comparing in-house and third-party label printing
How to choose the right printer and ink options
Who does label design software work?
Which Information to Include on Cannabis Labels?
SETTING THE STANDARD
In advance of cannabis sales being deemed legally federally, industry pioneers have put their heads together to establish a set of labeling and packaging recommendations. These recommendations help protect consumers as well as cultivators, processors, and retailers. The National Cannabis Packaging and Labeling Standards Committee is a collaboration between the Council on Responsible Cannabis Regulation (CRCR), and The National Cannabis Industry Association (NCIA).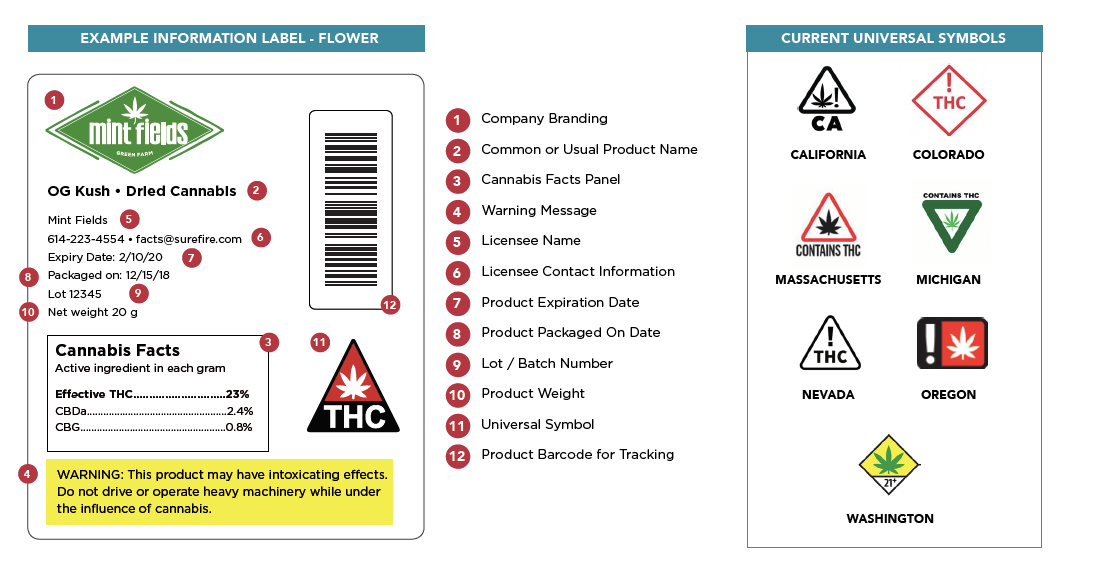 HERE ARE THE SUMMARIZED RECOMMENDATIONS FROM THE COMMITTEE:

FONT AND TYPE SIZE
All required labeling information shall be in any legible font that is at least 1/16th of an inch in height based on the lower case letter "o".

COMMON OR USUAL NAME OF PRODUCT
Common or usual name of the product in boldface type on all cannabis product labels. "Cannabis" should be included.

LICENSEE NAME / PHONE NUMBER / EMAIL ADDRESS
Contact information of licensee that produced or dispensed the finished product for the purpose of receiving product complaints and inquiries.

NET QUANTITY OF CONTENTS
Stated in both U.S. customary and Metric (SI) units; ex-pressed as fluid measure if the product is a liquid; and expressed as weight if the product is solid, semi-solid, or viscous.

LICENSE NUMBER / BATCH OR LOT CODE
All product labels to include the state-issued license number of the cultivator or manufacturer who produced the finished product and the product batch or lot code, for tracking purposes.
INGREDIENTS LIST
(For ingestible infused products)
Require ingredients listed by common or usual name in descending order of predominance for all products con-taining at least one ingredient not derived from canna-bis.

ALLERGEN LABELING
(For ingestible infused products)
Require labeling of major food allergens for all ingestible infused products and concentrates that are intended to be cooked with, eaten, or otherwise swallowed and digested (i.e., Activated Concentrates).

NUTRITION FACTS
(For ingestible infused products)
Require Nutrition Facts on labels for edible
cannabis-infused products and concentrates that are intended to be taken orally.

CANNABIS FACTS PANEL
Require a Cannabis Facts (Potency) panel on all cannabis product labels that includes % of effective THC and all other marketed cannabinoids by weight.

CONTAMINANT TESTING STATEMENT
Require a generic statement of compliance with mandatory contaminant testing on all cannabis product labels.
UNIVERSAL SYMBOL
Require a universal symbol that indicates the presence of THC in a cannabis product on the packaging or label-ing of all finished cannabis products.
WARNING STATEMENTS
Require a standard warning statement on cannabis products based on the type of product.
PROHIBIT UNTRUTHFUL/MISLEADING STATEMENTS
Prohibit untruthful or misleading statements in cannabis product labeling, including health claims.
LIQUID UNIT MEASUREMENT
Require multi-unit liquid ingestible infused products intended for adult use to be dispensed to a consumer in packaging with a device or mechanism for measuring a single-unit portion of the product.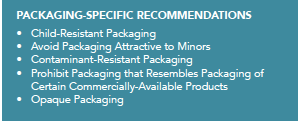 In-House Labeling Versus Third-Party PSPs
CONTROLLING YOUR OWN DESTINY
A quick internet search will reveal dozens of companies (print service provider) ready to sell pre-made or special order labels, which may feel like a convenient shortcut but creating and printing your own labels in-house is likely faster, cheaper and smarter.
In-House
Create Labels specific to state regulations
Labeling becomes "On-Demand"
Change info from label to label or in batches
Save on short-runs or single-use special orders
Only print the labels you need
Meet shifting market demands
Correct errors immediately
Create labels unique to your business/brand
Third-Party PSPs
Pre-printed labels may require additional hand/type-written information
May need additional labels
Errors/misprints
Incorrect labeling can lead to recalls, fines or operationalstoppages
Minimum order quantities
Lengthy lead times for non-stocks or custom orders
Choosing the Right Printer & Ink
WHAT IS RIGHT FOR MARIJUANA LABELS?
Inkjet printers have become a standard in the domestic market, especially for personal use but their popularity in business is growing. Inkjets aren't new, but improvements in technology and quality have pushed them ahead of laser printers.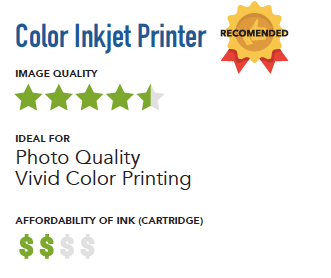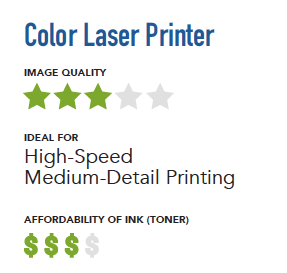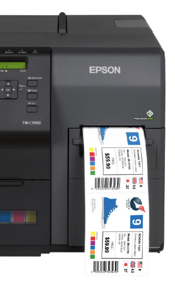 DYE-BASED INK

Uses a small amount of liquid dye mixed with water in the cartridge (mostly water, in fact). Dye-based inking is typically a bit cheaper and provides a higher quality transfer, especially where colors are concerned, but because the dye sits atop the medium, it is susceptible to streaking from water and fading when exposed to heat and environmental gases.

PIGMENT-BASED INK
(Recommended)


Pigment inks are a powder-like, dry substance that also mixes with water in the cartridge. The particles bond with paper fibers creating a thicker print that can resist heat, water and other natural elements. Color retention is longer with pigment-based ink as well, potentially resisting fading for centuries (not a typo!).
What Do I Need to Know About Label Media?
When it comes to choosing the right label media for your products, there is definitely an element of preference at play, but you'll also want to ask yourself these very practical questions.
Label Size & Shape
Color Inkjet Printers such as the Epson TM-C7500 offer a wide range of sizes and shapes when it comes to adhesive labels.

Typical sizes range from: .5" x 1.5" all the way up to 4.25" x 5.5879".
Standard shapes include: rectangular, square, circle, and oval. Custom label shapes are also available, and are called dye-cut in the printing industry. These come with a premium price, but offer flexibility and uniqueness of design.
Label Finish
The finish of your label refers to look, but also feel and durability of your label media. Standard finishes include: gloss, high-gloss, matte, satin, and clear.
You will also be faced with making a choice between paper labels and polypropolene label finishes. For almost all cannabis use cases, you'll want to opt for polypropolene as it is heat and oil resistant, keeping your label design in tact when handled by humans or exposed the sun.
Recommended Solution:
WHAT IS RIGHT FOR MARIJUANA LABELS?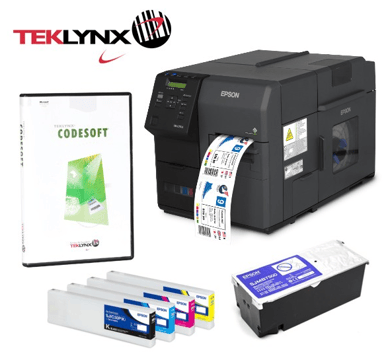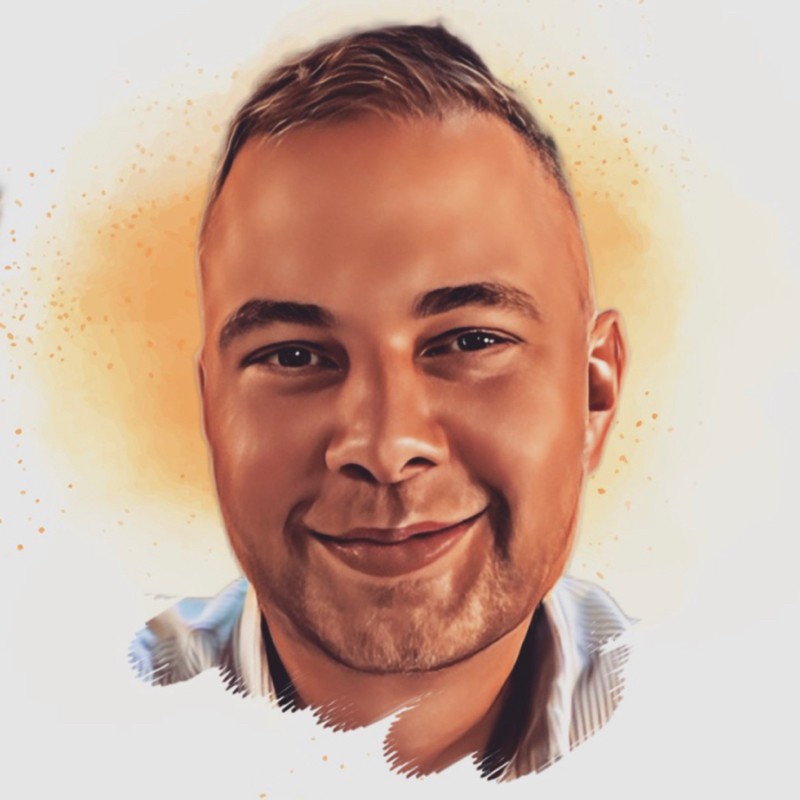 James is a marketing strategist and designer at BlueStar, having worked in professional sports and advertising previously. He's a jiu-jitsu practitioner, 90s hip-hop fan, and Dad to three boys.
Subscribe to Get Our Latest Content